Guest Comments:
"Every time we've stayed here, we've had a great time! The rooms a clean, the location is great and the owners are terrific!! Keep up the good work and we'll see you soon!
...
"
Liz Davis - Coventry, CT
"We spent several nights during Summer of 2010. The rooms were exceptionally clean and spacious. The breakfast was delicious. I look forward to visiting the outer cape again this season.
...
"
Judith Lilenfield - , MA
Read More
Sign
Area Attractions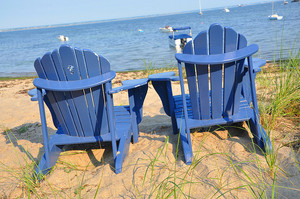 The Area Attractions & Events
Located midway between Provincetown and Hyannis in Eastham, the Eagle Wing Guest Motel offers an ideal springboard from which to visit and enjoy the best of the outer and mid Cape. The entrance to the Cape Cod National Seashore as well as Nauset Lighthouse and Coast Guard Beach, two of the most attractive beaches on the Eastern seaboard, are located less than two miles from our front door. Many distinctive bike trails, wooded paths, nature walks, restaurants, theaters, golf courses, shops and historical sites are all within easy reach.
Situated on two and a half acres, floral gardens decorate the front of the property while the lush conservation area bordering the serene backyard abounds with many varieties of bird and wildlife. Some rooms offer a back door onto a private deck where you can enjoy Cape Cod's natural beauty. All guest rooms are a short walk to the sun dren
ched pool surrounded by flowerbeds. Pool use is restricted to registered guests.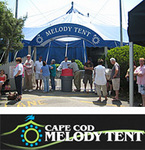 Cape Cod Melody Tent
Located in Hyannis, the Cape Cod Melody Tent features concerts, music, plays, events and shows, For more than 50 years, it's been one of the Cape's best place s to see a concert.
Cape Cod National Seashore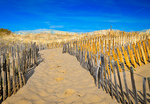 The Cape Cod National Seashore offers ranger-led activities, hour-long programs for children ages 6 to 12, including environmental games, explorations and activities, and beach browsing on the Outer Cape to find clues to the marine life offshore and the forces that shape the land during an hour-long walk. Take an hour-long tour of the Province Lands dunes to see what plants and animals call this changing land home and how they need to be protected or a two-hour open house, including information about the shipwrecks of Cape Cod and the heroic work of the life savers inside the historic Old Harbor Life Saving Station.
Take advantage of the Cape Cod cell phone tour, a cell phone interpretation program provided by the National Park Service that gives short guided messages about everything from seals to shipwrecks. Pick up a program description at the Salt Pond Visitors Center in Eastham. Access the cell phone interpretation program by calling (508) 718 - 6054.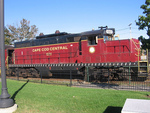 Cape Cod Scenic Railroad
The Cape Cod Scenic Railroad offers four scenic and exciting excursions. The Food Network featured the award-winning Elegant Dinner Train as one of the country's top three dinner trains. Recapture the romance of a by-gone era while you enjoy a five-course gourmet meal served on crisp white linen by a friendly and attentive staff as you journey through scenic Cape Cod. For a less formal train ride, try the Scenic Excursion Train. Named one of the top ten scenic train rides in the country by USA Today, the two-hour scenic excursions are perfect for all ages. You'll pass beautiful cranberry bogs, natural woodlands, and lush marshes as you make your way between Hyannis and the Cape Cod Canal on this popular Cape Cod attraction. Contact: (508) 771-3800. http://www.capetrain.com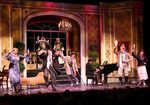 Located in nearby Dennis, the Cape Playhouse is America's Oldest Professional Summer Theatre, offering a variety of Broadway plays, comedies, mysteries and musicals with matinee and evening performances and a children's theater.
The Cape Cod Rail Trail follows a former railroad right-of-way for 22 miles through the towns of Dennis, Harwich, Brewster, Orleans, Eastham and Wellfleet. Its paved surface, few hills, and well-marked automobile crossings make it ideal for cyclists. The trail has a wide unpaved shoulder on one side to accommodate horseback riding, walkers, and runners.
There are many opportunities to get off the trail and visit a beach. Food and water are also readily available and public restrooms can be found at Nickerson State Park, Salt Pond Visitors Center at Cape Cod National Seashore and the National Seashore Headquarters. If you do not have a bike, bike rentals are available at many points along the way. For people with disabilities, a limited number of hand-cycles are available for rent at specific bike concessions. For more information call Nickerson State Park at 508-896-3491.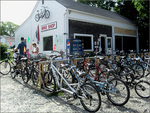 The Little Capistrano Bike Shop
offers two locations for your convenince. The Little Capistrano Bike Shop in Eastham is a full service bike shop located between: The Nauset National Seashore Trail and The Cape Cod Rail Trail. The Little Capistrano Bike Shop in Wellfleet is a small shop offering bike rentals and a small accessorie selection and is located at the start of The Cape Cod Rail Trail. Two great locations to start biking from!
Fishing Charters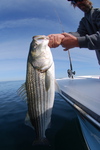 Reel Deal Fishing Charters are extremely popular in the Cape Cod area. In fact, Field & Stream magazine notes that Cape Cod has become what many saltwater a nglers consider the premier striped bass fishing destination in the world. The majority of Reel Deal Fishing Charter trips go out of Pamet Harbor, Truro, however Falmouth and Martha's Vineyard are also options in their rate structure. This Cape Cod tour specializes in striped bass and blues fishing but tuna, codfish and fluke are also commonly caught. Call today to schedule a trip: (508) 487-3767, or visit www.fishreeldeal.com.
Blue Claw Boat Tours
is the only Seal Cruise company from Orleans to Chatham.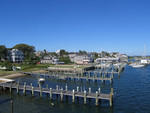 Hop on the Martha's Vineyard Ferry and visit this beautiful island. Each of the Island's six towns provides access to spectacular beaches, harbors, shops, restaurants, performing arts and attractions. Local town bands as well as visiting bands hold concerts here in the summer.
Old EasthamWindmill
Located on the Town Green at Route 6 and Samoset Road (across from Town Hall), the Eastham Windmill was originally constructed by Thomas Paine in Plymouth in 1 680. Moved to Eastham in 1793, this windmill is the oldest working historical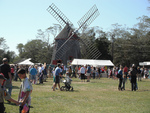 windmill on Cape Cod, and is still occasionally used to grind corn.


Founded in 1999, the Provincetown International FilmFestival (PIFF)is one of the country's preeminent film festivals, presenting diverse programming - the only year-ro und programming in Provincetown - that reflects the town's unique place in American history. Its 5-day festival in June presents a wide array of American and international narrative features, documentaries and short films, and makes a particular point to honor and preserve Provincetown's rich and diverse history as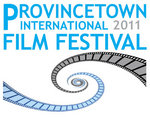 an arts mecca.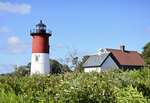 Nauset Lighthouse. Located within the Cape Cod National Seashore, Nauset Light is one of the most famous lighthouses on the east coast. Originally built in 1887, it was moved to Eastham from Chatham in 1923 to replace the Three Sisters. The upper portion of the beacon was painted red in 1940 to distinguish it from Highland and Chatham lights. Nauset Light was in danger of being lost to erosion, and in 1993 the Coast Guard proposed decommissioning the light. The light was saved, however, by the Nauset Light Preservation Society, which financed a project to move the light further inland and was finally completed in 1996. This working lighthouse is visible 15 ½ miles out to sea.
Three Sisters Lighthouses
All of Cape Cod's Lighthouses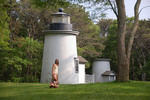 These are located 1/2 mile from Nauset Light Beach on Cable Road. In 1837, a lighthouse station was established at Nauset Beach - halfway between the sing le l ig h t at Highland, and the twins at Chatham. To distinguish the Nauset Station, a keeper's house and three small towers of brick were constructed 150 feet apart. Two towers were ta ken out of service in 1911 and the third was replaced in 1923 with the "New Nauset Light." In 1975, the National Park Service purchased all of the Th ree Sisters Lights and conducted a $510,000 restoration that was completed in 1989. The Three Sisters now rest together and can be viewed with a short walk from Nauset Light Beach.
Truro Vineyards of Cape Cod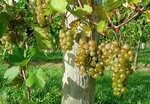 Enjoy a wine tasting in the vineyard under the pavilion. Sit and relax while we explain the nuances of our wine and walk you through our selections. From Memorial Day to Columbus Day weekend we offer free guided tours of the vineyard and winery, including our new state of the art barrel room. We'll explain the art of maritime grape growing and how we produce wines with intense flavor and lush varietal character.

Whale Watching

Whale watching crews leave regularly from Plymouth, Barnstable and Provincetown Harbors, and most guarantee a sighting. No matter where you embark, your cruise will take you to Stellwagen Bank National Marine Sanctuary, the Atlantic whales' favorite feeding grounds. Each year, beginning in late winter, whales return to the Sanctuary, which encompasses more than 600 square nautical miles. Since the water is shallow here, plankton upon which whales feed, rises closer to the surface. You'll see whales breaching (leaping straight out of the water into the air), spyhopping (holding their heads high out of the water as if having a look around) or sounding (executing a dive). Enjoy summer sunset whale watches, expert commentary from on-board naturalists and private charters. Provincetown is the closest port to the densely populated Stellwagen Bank making it an ideal whale watching departure point. Board one of the whale watching vessels in Provincetown Harbor, for a 3-hour whale watch into the waters of Stellwagen Bank.
Enjoy first run double features every night starting May 23rd at the only Drive-In Theatre on Cape Cod. Built in 1957, the Wellfleet Drive-In hosts a 100' x 44' screen, and a state-of-the-art FM stereo sound system that decodes modern sound tracks. Don't have a radio? That's OK! Mono original speakers are available for your listening pleasure. There's a playground and snack bar too! The Wellfleet Drive-In Theatre is open from late April through mid September.
Wellfleet Flea Market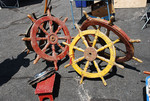 Wellfleet Flea Market is the biggest outdoor market, if not the best of all of Cape Cod. Up to 250 vendors sell most anything under the sun. Shop for new items, Cape Cod memorabilia, antiques, and much more. It will be fun to see what treasure you will find during your visit to Cape Cod. There is a snack bar, playground and restrooms for your convenience.